Joey Josephs
Female illusionist and impersonator as Connie Francis, Judy Garland, Liza Minnelli
Last update: 6-1-15
For bookings, contact Joey at joeyjosephs87@aol.com
Follow Joey on:
The impressive glamour photo by Bruce Glikas on right also makes a great 30x40 inch poster.
Performances:
Joey has many performances, for latest visit his Facebook page (link above).
Living in Philadelphia, Joey has performed at Teller Auditorium opened the show as Connie Francis, closed the show as Judy Garland. Other venues included Judy Garland Live at Reading Pride in Reading, Cabaret show at Beagle Tavern, GLBT Relay For Life of South Jersey. Joey also frequents Michael's Lounge in Kingston, PA.

Joey Josephs' story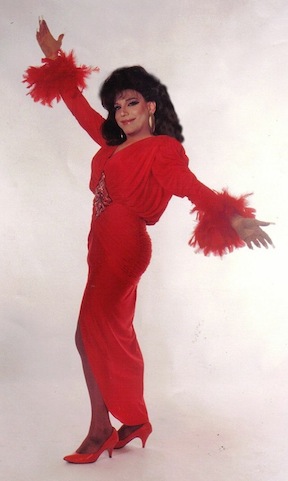 In 1983 Joey got a job working at the long-gone nightclub Odyssey II that saw a lot of drag The Philly legends who started when it wasn't cool to be a drag entertainer, they paved the way for many others to follow. This inspired Joey to do entertainment of this form in later years. (side note: Nobody these days wants to perform the Philly scene as it's too many drugs and clicks now, even RuPaul rejects).
In 1985 Joey wanted to dress up for Halloween, and in 1987 he starred in a local soap opera comedy called Maple Peach USA filmed in Philadelphia. That same year he entered and won second place in a lip sync contest. Host of the show, Nikki Star, said Joey looked like Connie Francis. As a long devoted Connie Francis fan, he idolized her, knew all her songs and singing style, he realized he can look just like her.
Starting a career as a female impersonator was not welcomed by many. His partner at the time said he would make a ugly girl since he was a hot guy. Others said, "You will look like Sylvester Stallone." Valerie Fox said, "Honey, stay out of drag." Seven years later Valerie apologized. Joey identifies himself as a female impersonator, not a drag queen (there is a difference).
18 years later, Joey was crowned Miss Venture Inn, and has applied many an eyelash as a female impersonator at several venues including Club Cabaret, Lark Bar, Shampoo, 814 Club, Baxters, Stonewall, Dymonds, Bob And Barbara's, Garfields, Tally Ho, Sundown Lounge, Velvet Rope, Red Starr, Sisters Club, and Philly's now-defunct Applause Applause, as well as New York City supper clubs. Meantime winning Miss Gatsby's of Cherry Hill NJ, Miss Pennsylvania American Illusion, Miss Gay Pride 1994 and 1995, Miss Lark in 2001, 2002, and 2005.
Joey has lent his talents to help raised money for various charities over the years. Raising money for NJ AIDS alliance, Dooley House, Children Hospital, and since 1998 he has worked for Project Hope of Montgomery co. this is just to name a few.
Joey began doing his own makeup because he didn't like how others did it for him. He also learned how to makeup very quickly when many times it became absolutely essential to meet last minute notices of important gigs. Also in 1987 he enjoyed the attention, always posing for photos, on the street, in the bars and clubs.
Nikki Star took Joey under her wing in 1987 and put him on stage as Connie Francis in a lookalike contest in Atlantic City which Connie helped to judge. The next evening Connie brought Joey up on stage at Bally's Grand. From then Joey started learning more on how to act like her and be her, smile and all. 1988 Joey was traveling and performing as Connie, taking a year off in 1989 to work on make up and movements, he came back harder in 1990. Working in New Hope and then landing a part in a show off Broadway, (a La Cage show) as Connie Francis, with a host of talented and professional people. From there Joey won many titles, crowns, and trophies. Connie Francis herself saw Joey perform as her, for a look-a-like contest she judged, and they became friends. "She is a fan of mine, I adore the woman." Joey humorously recalls. Both been photographed together which magazines have published picture as "Connie's double, on the left." And several occasions Connie's fans, and personal friends, have mistaken Joey for Connie.
Joey has been on radio, as well as television, interviewed for many magazines, newspapers, and local school papers. Joey says, "Is it a ball, when you work with professionals, you learn from them. I am grateful for the many fans I have. I consider to be like family and I will continue to perform as long as you want me. I am grateful for the wonderful I have met and touched my life in some way, and I hope I touched theirs as well."
From impersonating Connie, the next diva was Judy Garland. This was the early 1990s, a person said to Joey his Judy is too stiff, there was nothing wrong with his Garland but should stick with just doing Connie. She thought Joey would crumble at this advice, but instead he thanked her. Joey continued to practice more on improving his Garland, and is able to use his own voice instead of lip-syncing. Next divas Joey learned to impersonate was Marilyn Monroe, Bette Midler, and then Liza Minnelli. He has have dabbled a bit with Barbra Streisand, Gloria Estefan, and even Lady Gaga.
Joey on drinking: "I never drank alcohol, I don't like the taste, I like being in control. If I make an ass out of myself, I want to remember so I never do it again." Even when Joey faces significant challenges in booking shows, he maintains high standards to never use drugs or the "casting couch" to make ends meet.
Joey Josephs on makeup: "I use to take about an hour to do my make up. If you give me too much time in the mirror I grow bored and start changing things, so I mastered to be able to do it in five to ten minutes. When you are on the road and working, you don't always get a nice dressing room, and you need to know how to do your makeup fast to be ready to go on. And no, I don't need a lot of make up, I have a very heavy beard, and as long as it is covered I am good. The rest is very easy. I just play up my eyes a lot, always have, but keep everything else natural looking. The key is looking like you aren't wearing a lot, but you do have makeup on."
Final note by Joey Josephs: "Hugs to you all and happy reading. Never give up, don't let anyone tell you, you can't do something. Find the inner strength and prove them wrong, grow."
Impersonations:
Connie Francis
Judy Garland
Liza Minnelli
Marilyn Monroe
Gloria Estefan
Barbra Streisand
Bette Midler
Connie Francis' double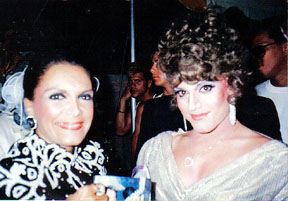 Which is "she?" The South Philly native channels a cavalcade of divas, including Judy Garland, Liza Minnelli, Marilyn Monroe, Cher, and Connie Francis—the last of whom he's corresponded with for years thanks to her generous Italian rendition of "The Impossible Dream." Many fans of Connie Francis say Joey is the best Connie impersonator.
Connie Francis herself says Joey Josephs is the best in this show in December 2011 on Baltimore Net Radio where she answers a fan's question about impersonators (youtube).
Joey on performing as Connie:
"I started out in 1987 performing as Connie, I won the lookalike contest in Atlantic City which Connie helped to judge, and the next evening she brought me up on stage at Bally's Grand. I started learning more on how to act like her and be her... smile and all."

"From there, I started impersonating Judy Garland, from Judy to Bette Midler, then Marilyn Monroe, to Liza Minnelli. I was dared to do Barbra, so I now impersonate Barbra, from the 60's with the Sassoon cut... newly added is Cher."

from Philadelphia City Paper article:
Joey Josephs can transform into Liza Minnelli in 10 minutes. "I got the wrong bus schedule," says the host of Club Cabaret, a biweekly drag series at Sisters. "So I did the face in five minutes, took off my boy clothes and put on a wig." Voila.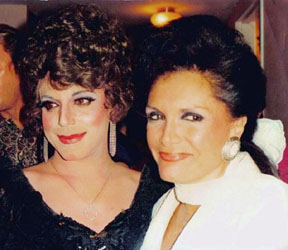 Comments from Connie_Francis yahoogroups.com:
"Joey, you do great work nobody does Connie like you do."
"This is great, thanks for sharing it with us~~terrific job."
"I love this vid."
"All I can say is.... WOW!"
"In the first second I think it is Connie."
"A few times I could actually vision CF there."
"Good job Joey!"
"Is it Connie or is it Joey?"
"You do Connie proud that's for sure."
"You sure do have her body language down. Awesome job!"
"Your gestures and poses, the way you breath and put your feet, it's so identically Connie Francis."

Videos of Joey Josephs as Connie Francis:
Joey's Youtube site
Joey on performing Al Di La:
"This performance was for a talent contest and I was still at home, deciding what I wanted to perform. At the last 10 minutes, I decided on Al Di La, only rehearsed it once and I was off to the club. I won over the audience that night, made some new friends and fans, but didn't win the fixed contest."
Glamour Photos
Joey Josephs in New Hope, PA (photos by Bruce Glikas):
Joey Josephs in New York:
Joey Josephs at The Prelude:
Joey Josephs as Connie:
Joey Josephs as Miss Gay Pride:
Joey Josephs singing, "The Impossible Dream":
Joey Josephs as Judy Garland (left), Marilyn Monroe (right):
Joey Josephs as Cher:
Photo used on Youtube:
Media coverage:
Past performances:
website editor, Michael Wright at mfwright@batnet.com
---
Return to The Connie Francis Page