The Connie Francis Page

www.mfwright.com/connie_francis.html
Created on January 14, 2009

(This site was created on February 10, 1997 at www.batnet.com/mfwright/connie_francis.html
but ISP cancelled domain.)
Last update: 12/11/22
Fan photo collages celebrate Connie Francis' birthday
Here is what her fans have put together [some from previous years]:
| | |
| --- | --- |
| from Dana Pilecka in Poland | (forgot who made this image but it is beautiful) |
| from Henryk Stawicki (Poland's Connie Francis Fan Club) | from Denise Larin |
| from (name?) on Connie_Francis yahoogroups.com | from Alie Smit |
A couple of Happy Birthday messages for Connie:
Feliz aniversário Connie querida...
Saúde, sorte, sucesso e muitos anos de vida.
Um beijo gostoso do seu fã brasileiro,

Julio Cezar do Amaral
Rio de Janeiro

You raise our spirits high
When we are feeling low.
You make us feel emotions
Right from head to toe.

You've been with us
Through thick and thin,
Our lives filled with your voice.
So it isn't any wonder
Your the LADY of our choice.

A VERY HAPPY BIRTHDAY, CONNIE!

WE LOVE YOU!
Johnny Donatelli

Birthday Tribute for Connie by Carol "Cat" Adams at
http://www.conniefrancisrocks.com/hbc.htm
Official Connie Francis sites:
For performance and appearance of Connie Francis, please email bookingconnie@me.com (PLEASE no fan mail)
Current Monthly TV Schedule of Connie Francis, http://www.tvguide.com/search/index.aspx?keyword=connie%20francis
Click here for a more comprehensive description of Connie Francis (previous format of the main page)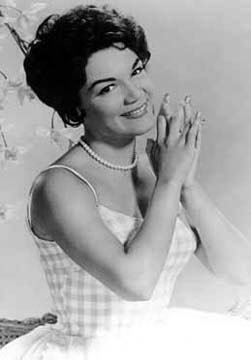 This site also has
(click underline to go to listed item):
Email website editor Michael Wright, mfwright@batnet.com
Additional Items:
---
Comments about Connie Francis from people visiting the website:
"Thank you, Connie. You have made people all over the world happy while listening to your songs."
"Wow, her unique voice really has magnetic power"
"I never get tired of talking about this phenomenal woman"
"Connie is still able to touch my heart with her songs and her simply adorable and very special voice."
"She always gives me an emotional work out. She is the ultimate entertainer."
"I have found a great appreciation for Connie's foreign language recordings."
"I have met her a few times and which I will treasure in my memory forever."
"She is and always will be the greatest."
"Thank you Connie Francis for your voice, your music."
"Connie Francis is an elegant lady."
"What a talent she is."
"I've followed her career through the years and love her as a performer."
"I love Connie Francis' voice."
"Connie Francis is a long-time favorite of mine."
"Connie sure has a wonderful following."
"I have been listening again to her wonderful voice."
"Connie, I want to tell you that your fans love and admire you for many reasons, throughout your life you have always been a real class act."
"She is one of the most beautiful singers of all time and everyone should know it."
"Thanks for the good music and the shows through the years."
"She is my absolute idol."
"The greatest female singers of all time."
"Connie is very precious to me."
"I've had the pleasure of seeing Connie in concert."
"My friend is a MAJOR Connie Francis fan as his VISA will attest."
"I recently saw Connie at Foxwoods Casino, and she was WONDERFUL."
"I have been a fan since I was 15, I am now 48."
"She deserves the best."
"I like Connie Francis a lot."
"Connie's singing and rendition is phenomenal."
"I have been smitten with her beautiful voice since I was 12 years old (I'm 35). Without a doubt, Connie has one of the purest voices ever."
"I have been in love with Connie since 1958 and she can make me either cry or get up and dance at the drop of a hat."
"I love this woman!"
"Connie is the best!"
"I enjoy her music and movies very much."
"She has been a favorite of mine since childhood."
"Connie Francis ranks as the #1 female artist in our household."

---
Contributors
Carol Adams
Diana Ambrose
Ed Amori
Jim Antinone
Gerrit Jan Appel
Diana Apple
Eric Beesley
Don Del Bello
Diane Branson
Bob Breide
Charlie Buzbee
Carleen Canastra
Jean Cannizzaro
Sandra Casacalenda
Guy Consterdine
Alex Corsello
Alex Cuoco
Bee Curcio
Nancy Damecki
William Dane
Brenda David
Michael Dardenelle
John Donatelli
JD Doyle
Jenna Esposito
Joe Falbo
Tom Ferraris

Joe Finger
Cora Francis
Marcia Friedlander
Janis Galef
Paul Gallo
David Gautsch
Jan Willem de Gee
Diane Georgelis
Bruce Gerber
Christine Geyer
Sharon Gerber
Dana Giambra
Mike Giambra
Pam Gilbert
Diana Giraldi
Ann Gowen
Guido Grande
Guillaume Grisey
Terry Hall
Bobby Hammon
Graham Heys
Justin Ingalls
Anatoly Iovik
Pat James
Chris Jehle
Christian Kock
Richard Kent

Ken Kirchein
Hans Künzel
Denise Larin
Alexander Linton
Malcolm Lombard
Jonathan Long
Bostjan Malus
Tony Martin
Fran Martinez
Michelle May
Christian Meyer
Michael Michaud
Joseph-David Miller
Charlie Mills
Richard Molway
Mike Motta
Terry Murtaugh
Judy M.
Pat Niglio
Gary Olsen
Paulette Ostroske
Ken Paruti
Joyce Phillips
Charlie Pirozzi
Sal Presti
Candace Rich
Ron Roberts

Meindert Roemeling
Terry Robertson
Peter Saenz
Bill Salvaggio
Edward Sarosi
Graham Scarf
Jürgen Schulze
Frank Siccone
Tom Simon
Ken Slavin
Alie Smit
Henryk Stawicki
Sherry Stotts
Jim Swords
Gabe Temesvari
Linda Torrance
Eda Thompson
Lucas Tuinstra
Roger Turner
Ben Vogelsang
Steve W.
Steve Wandel
Jerry Wanek
Chris Wing
Jim Zilembo
Christine Zinno
---
Disclaimer and Purpose
This website is for noncommercial purposes only. This is not an official media outlet for Connie Francis, nor is it for any organization. Every effort has been made to make this article to be non-offensive and politically correct. I receive no compensation for this site.
This web site was constructed as a contribution to great art by being a booster for Connie Francis. Purpose is to provide information on Miss Francis for the use by her fans, admirers, music scholars and for everyone with an undying love and deep affection for Connie Francis.
Michael Wright
Website Editor
---
Do you like this webpage? If so, please vote for it (click image below):



Feedback is desired (suggestions, comments, errors, gripes, whatever) Michael Wright, mfwright@batnet.com