The Silvana Mangano Page
http://www.mfwright.com/silvana_mangano.html
Created on January 14, 2009
(was created on May 14, 1997 at www.batnet.com/mfwright/silvana_mangano.html
but ISP changed domain to userwebs.batnet.com)
---
Last update: 1/12/07
NOTE: This page is under a new domain (mine!) and not all links and images are uploaded yet. I will one by one upload and update.
Silvana Mangano on Television Verify your Local Listings
All times in Eastern Time Zone.
Dune, 1984 (1963)
Feb 1 8:00AM on Encore Action channel
Feb 1 9:00AM on Movie Plex channel
Feb 2 1:30AM on Encore Action channel
Feb 2 2:30AM on Movie Plex channel
Adaptation of Frank Herbert's epic about an interplanetary power struggle for a magic spice. Also starring Kyle MacLachlan, Francesca Annis, Jurgen Prochnow, Jose Ferrer, Brad Dourif, Dean Stockwell, Linda Hunt, Paul Smith, and Max von Sydow.

The Witches, 1965 (France/Italy, 1965)
Jan 26 4:00AM on Encore Mystery channel
Jan 26 5:00AM on Movie Plex channel
Five separate stories relate the tragic influences of a quintet of different women. Directed by Luchino Visconti. Also stars Annie Girardot and Clint Eastwood.
Current Monthly TV Schedule of Silvana Mangano is at
http://www.tv-now.com/stars/mangano.html
---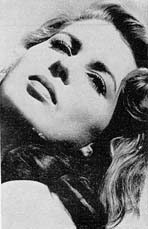 Silvana Mangano (born on April 21) is an actress from Italy and known for the critically acclaimed 1949 film, Bitter Rice. While filming the movie, she posed in a rice field for a picture, a memorable scene for the movie.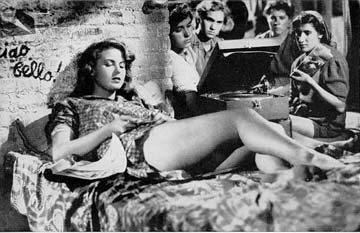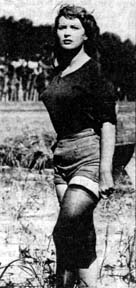 Silvana is a daughter of a Sicilian train conductor and a reserved English woman. She didn't have the ambition and drive of two other Italian actresses, Sophia Loren and Gina Lollobrigida, who were her contemporaries. Silvana married Dino de Laurentis, the producer of "Bitter Rice." He spent time and money trying to promote her to international stardom. In 1973 she and de Laurentis moved with their son and three daughters to Hollywood. He was determined to become rich, as had his former partner, Carlo Ponti, husband of Sophia Loren.
In 1981, Federico, their son--was killed in an Alaskan air crash. In 1983 Silvana and Dino separated. She abandoned her career and lived in Paris and Madrid, where she made tapestries.
She had wanted to play opposite Marcello Mastronianni in "La Dolce Vita" but was prevented from doing so because of her husband's jealousy. She played the actor's wife in "Oci Ciornie" in 1987, which was based on a Chekhov short story. She really didn't care about stardom by then.
Around the end of 1989, Silvana Mangano died of lung cancer at age 59 in a hospital in Madrid. Many remember her as the most sexy, exciting, carnal film star of Italy's neo-realistic period.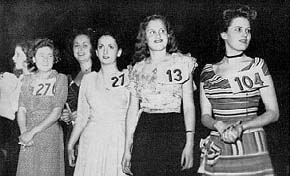 Silvana Mangano, on the far right (#104), at the Miss Rome contest. Gina Lollobrigida, number 27, is the forth from left. [photo credit 1]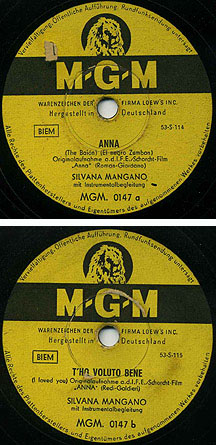 Silvana released a single (45) with the songs Anna and I Loved You (M-G-M K11457), which these songs were featured in her 1951 film, "Anna." To locate a copy of this record, do a search of "Silvana Mangano" on Dejanews at http://www.dejanews.com. Also try both "recent" and "past" in the "complete" archive [on 8/21/98, a dealer was selling two of these 45s]. Occasionally used record dealers post their collection of used vinyl on the newsgroups and sometimes they will have a copy of this record.
Here's the text of Anna's song, first in Spanish as Silvana sang it in the movie. English lyrics follow. Silvana wasn't the world's greatest singer, other women did a much better job with that song. But she had the 'je ne sais quoi' no other actress was able to offer at the time.
Anna's Song:

(Editor's note: The accent marks were removed because many webpage browsers do not support such marks. Sorry if it makes it difficult to read.)

Hay! Tengo ganas de bailar
Un nuevo compas
Dicen todos cuando me venpasar
Chica, donde vas
Me voy p'a bailar
El bayon!
Hoy tengo ganas de bailar
El nuevo compas
Dicen todos cuando me ven pasar
Chica donde vas?
Me voy p'a bailar
El bayon!

The Spanish word "bayon" actually comes from the Brazilian Portuguese "baiao" meaning a popular song and dance, performed with violas and other instruments. The word is derived from "baiano," that is from the State of Bahia, in Brazil's Northeast.

Today I feel like dancing
A new rhythm
All people say, when they see me pass
Girl, where are you going?
I am going to dance the Bayon!
Today I feel like dancing
The new rhythm
All people say, when they see me pass
Girl, where are you going?
I am going to dance the Bayon!

This song isn't performed much any more today. There is, however, a Brazilian singer by the name of Daude who performs it in Spanish. The CD is pressed in Canada and available in the US: TinderCD 42841102. Connie Francis released the song in the album (and CD) "Never On Sunday and Other Motion Picture Hits."

These pictures are German pressings of MGM Records 78 "Anna (El negro zumbon"), b/w "T'ho voluto bene (Non dimenticar)" from Gerrit Jan Appel's collection.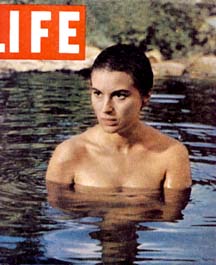 Demi Moore as a Navy SEAL? No, that's Silvana as a Yugoslav guerrilla who fights Nazi invaders in the movie, "Five Branded Women." [photo credit 3]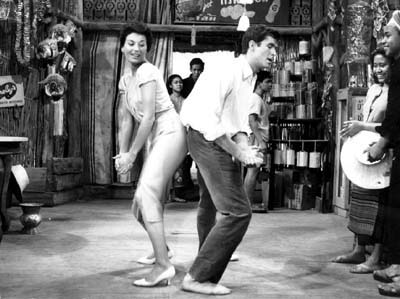 Silvana with Tony Perkins doing a dance called "the crawl" in the movie "This Bitter Earth."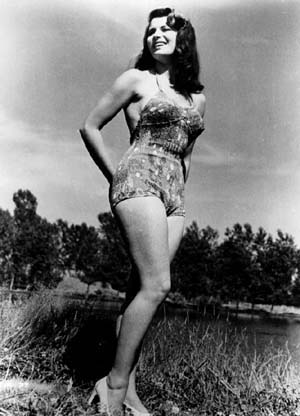 Nice profile of Silvana.

Silvana chats with her co-star, Kirk Douglas, during a break of filming the movie Ulysses. Silvana plays the super-siren "Circe." (from See Magazine, March 1955)


These are some of her movies:

Lure of the Silva	1949
Bitter Rice		1949
Anna			1951
Mambo			1954
Gold of Naples		1954
Ulysses			1955
This Angry Age		1958
Tempest			1959
Five Branded Women	1960
Barabbas		1961
Oedipus Rex		1967
Teorema			1968
Decameron		1970
Death in Venice		1971
Ludwig			1972
Conversation Piece	1974
Dune			1984
Dark Eyes		1987
Oci Ciornie		1987
This Bitter Earth	(year?)

Silvana Mangano Videos available from Video Flicks.com (http://www.videoflicks.com)

Silvana Mangano Videos available from Movies Unlimited.com (http://www.moviesunlimited.com)

http://www.reel.com)
Other webpages with Silvana Mangano
Silvana Mangano Yahoogroups Internet Mailing List
http://groups.yahoo.com/group/silvanasociety

Group Email Addresses:

This list is maintained by Joyce Elliot and messages are publically available. You can address several Silvana fans that are subscribed to this list with just one email. Share stories and pictures, ask questions, etc.

Joyce also has a few photos of Silvana at http://photos.yahoo.com/jle1934 (click on folders "Pictures" "#2 pictures" and "#3 pictures").
Silvana on German TV http://www.prisma-online.de/tv/person.html?pid=silvana_mangano
http://www.1worldfilms.com/Italy/bitterrice.htm
http://www.1worldfilms.com/Italy/anna.htm "Anna" 1952 Directed by Alberto Lattuada
http://www.1worldfilms.com/italy.htm 1-877-884-2402 (U.S. Orders Only)
http://www.1worldfilms.com/Italy/ulysses.htm
Producer Dino de Laurentiis, recognizing the genre's popularity in Hollywood as well as Italy, brought several American screenwriters (including Ben Hecht) to the project to ensure its international appeal to the film Ulysses.
Silvana bio http://www.raiuno.rai.it/raiuno/schede/0032/003257.htm
Silvana films http://www.raidue.rai.it/raidue/schede/9017/901722.htm
---
Disclaimer
This website is for noncommercial purposes only. This is not an official media outlet for Silvana Mangano, nor is it for any organization. Every effort has been made to make this article to be non-offensive and politically correct. I receive no compensation for this site.
Michael Wright
Website Editor
Photo Credits (known)
1. Modern Man magazine, Feb 1957, "How Italian Movies Began the Big Bosom Boom."
2. [scene from Bitter Rice] Modern Man magazine, May 1955, "The Truth About Italy's Movie Queens."
3. Life magazine, April 11, 1960, "A Tale of Five Little Shorn Lambs."

---
Links to other beautiful women:
---
Feedback is desired (suggestions, comments, errors, gripes, whatever) Michael Wright, mfwright @ batnet.com