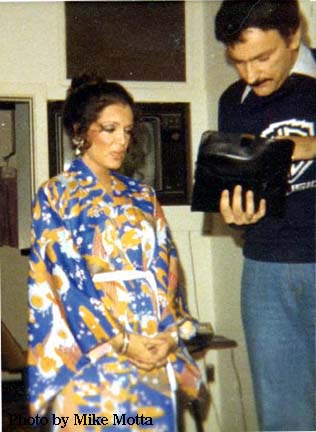 Connie with Howard Greenfield. This photo was taken backstage between reheasals of Connie on Dick Clark Live in 1978 (photo by Mike Motta).
Howard (or Howie as friends would call him) unfortunately died an early age in 1986, but he wrote more than 400 songs in his career including many of Connie's R&R hits that made her famous.
Prolific composer Howard Greenfield collaborated with singer/songwriter Neil Sedaka on some of Sedaka's greatest hits including "Calendar Girl," "Happy Birthday, Sweet Sixteen," and the Grammy-winning 1975 song "Love will Keep Us Together." He also wrote a number of movie theme songs, and theme songs for such TV series as Bewitched, Hazel, and The Flying Nun.
Other artists than Connie Francis who sang Howard's songs include Captain & Tennille, Cher, Patsy Cline, Neil Diamond, Everly Brothers, Johnny Mathis, Wayne Newton, Shirelles, Etta James, Air Supply, LaVern Baker, and Gloria Estefan.
(some information from http://allmovie.com)
Return to Connie Francis Photo Gallery 5