Skydiving from 30,000 Feet!
"Oakland Center, we have jumpers away at flight level three zero zero."
http://www.mfwright.com/30Kjumps.html
Created on January 14, 2009
(was created on April 7, 1997 at www.batnet.com/mfwright/30Kjumps.html
but ISP changed domain to userwebs.batnet.com)
---
NOTE: This page is under a new domain (mine!) and not all links and images are uploaded yet. I will one by one upload and update.
Last update: 10/19/12
---
Note: Many links on this site are not working, pending updates (i.e. chasing info that disappeared).
OCT 2012 UPDATE:
Felix Baumgartner now has the highest skydive from 128,100 ft on October 14, same day as 65th anniversary of first (controlled) manned supersonic flight by Chuck Yeager in 1947, see http://www.redbullstratos.com. A launch on October 9 was scrubbed due to gusty winds, which that day was 20th anniversary of 30,000 ft skydives (which I was on that group, 2nd load) at Davis, CA.

Almost all skydivers are familiar with Joe Kittinger prior to Baumgartner's Oct 14 jump held the highest parachute jump from 102,800 done in 1960. Joe, now in 2nd place on altitude jumps, was Capcom for Felix Baumgartner. There have been many others over the past 50 years attempting to break the high jump altitude record, but simply put the logistics are staggering. Jumping from 30,000 ft which is basically twice the typical skydive jumpship exit altitude, requires a huge amount of preparation and use of special equipment.

(he is the one that supervises 30K jumps at Davis)

Really cool photo (SF in background) of John Lewis and a friend over Davis, CA at http://www.lewistotle.net/highAltitude.shtml

Want to know what the physiological flight training chamber looks like? Click here for Chamber Ride Photos

Now if you want to jump at 60,000 feet or higher,
you will need one of these, click here for Spacesuit Photos

Mount Everest, High Exposure: Humans at Altitude. See http://www.pbs.org/wgbh/nova/everest/exposure. What happens to your body when it's exposed to extreme altitudes? How does the lack of oxygen affect the brain? If there were a mountain higher than Everest, would humans be capable of reaching the summit? Find the answers to these questions and much more. This page also includes:

Hear the Experts
High Exposure: Epilogue
Test Your Brain
Climbing without Os
How the Body Uses O2
Pressure on Earth

Hiking to 30,000 feet. If you are considering of going by foot to 30,000 feet to instead of paying a airplane ticket, first consider this. Climbing Mt. Everest is far more difficult (and expensive) than a plane ride. Although high altitude climbing is a different set of circumstances, high altitude aviators can learn from the experiences of mountaineers. Click here for a further discussion from the NOVA PBS broadcast on high altitude effects on climbers of Mt. Everest.

Jumping from 100,000 feet (it's been done)

August 16, 2010 was the 50th annivesary of Col. Joe Kittinger jump from 102,800 feet in August 16, 1960. Huge celebration of this event which nobody in past 50 years came close to beating this record skydive. Well, that all changed with Felix Baumgarter's jump on October 14, 2012.

National Skydiving Museum, http://www.skydivingmuseum.org, organized celebration at DeLand, Florida with a 50-way, a re-enactment of this famous jump, wing suit demo, and more.

halojumper.com is selling a 50th commemoration shirt as well (design on right). To purchase the 50th Anniversary T-Shirt visit http://shop.halojumper.net/product.sc?productId=22&categoryId=3


http://halojumper.com has jumps from 24,000 and 30,000 ft including tandems.

100K+ Skydiving Attempts are planned for the near future. During the past 50 years, several individuals tried but could not harness the resources to make such a extreme altitude jump. They had skills, drive, and guts but they did not have resources of high altitude balloon, spacesuit, highly skilled ground crews, and communications/telemetry/rescue infrastructure. Recently, however, some talented people may have pulled it all together, and so one may become the first Space Jumper:

OCT 2012 UPDATE: Felix Baumgartner now holds title for highest parachute jump from 128,100 ft on Oct 14. see http://www.redbullstratos.com.

Cheryl Stearns: Golden Knight, champion skydiver, and airliner pilot plans a 130K+ jump soon. See her website at http://www.stratoquest.com.

Johan Persson from Sweden recently made a practice jump from 49,600 feet. From Skydiving Magazine (April 2001), "In the summer, he will jump from 45,000 meters (148,500 ft) over Texas."

Rodd Millner, Australian Ex-Commando, to Conduct Record-Breaking Space Jump, see http://news.excite.ca/printstory/news/pr/010303/australian-commando

Michel Fournier, a retired French parachute regiment officer, aims to become the world's first man to break the sound barrier in freefall when he skydives from 25 miles up. See http://www.lineone.net/express/00/07/21/news/n2620-d.html

An article on Space Parachuting: Skydiving from the Edge by Leonard David of Space.com at http://www.space.com/businesstechnology/technology/space_diving_010608.html

Sadly, in 1966 Nick Pantenida tried to do this on a low budget and it cost him his life http://artofmanliness.com/2010/10/07/skydiving-from-space-part-ii-nick-piantanidas-magnificent-failure/ A prior attempt he reached 123,500 ft but could not disconnect O2 line. His fatal attempt ended at 57,000 ft which he inadvertantly opened his visor depressurizing his space suit.

Here was an average joe, a truck driver from Jersey, a devoted Catholic and family man, who completely bootstrapped his way to within a hairbreadth of remarkable success. ... Achieving this feat would be no easy task. Nick wasn't a college graduate, and he had no connections to the Air Force or Navy, to research labs, or to the companies that made the balloon and pressure suit he would need for the jump. He would have to assemble each aspect of the project on his own.

Bailing out from 300,000 feet, a concept illustrated from the 1959 book, Man's Reach Into Space However, this would be very difficult if not impossible to do, and the FAA will never grant a Part 105.15(a) waiver to jump into NYC from a spot over Boston!

129th Rescue Wing "Golden Gate Guard" has HALO/HAHO capability. see http://www.129rqw.ang.af.mil. For info on the rescue wing PJs, the Maroon Berets, click here.

A Bad Altitude: July 1997 Airman Magazine article on physiology technician responsibilities pertaining to hypoxia prevention, chamber rides, and HALO jumps at http://www.af.mil/news/airman/0797/hamm.htm

http://www.european-paratrooper.de website of the European Military Parachutists Association has members with HALO experience. Affiliated with http://www.parachutes.de

Tamara Koyn's website has a briefing for jumping 21,000 feet from Mike Mullin's King Air at http://www.koyn.com/CloudDancer/articles/21KJumpBriefing.html

Space Shuttle Bailout. Crew escape from the orbiter at about the same altitude as the Skydance Skydiving King Air on 30K jumps (however, much more is involved when jumping the shuttle).

Skydiving from space: It hasn't been done and there are no "real" plans for it. However, Bill Von Novak has written a story about a marooned astronaut having to use creative measures to save himself from a space disaster. His story is at http://people.qualcomm.com/billvon/fiction/orbit.html

Space Diving: Ride The Fireball. Skydiving from space has been thoroughly researched and investigated. Click the title for more.

Explosive decompression portrayed in the movie, 2001 A Space Odyssey. Some research suggests a human could survive a brief exposure to space. However, many aviation physicians say such a situation would kill someone and is not survivable. In case you're interested, Geoffrey Landis of NASA Glenn Research Center has a web page discussing the effects of vacuum exposure on humans at http://www.sff.net/people/Geoffrey.Landis/vacuum.html

History and information on Special Forces HALO program by Ed Hauck at http://www.vistech.net/users/edman/halo/default.html. Ed's father, MSG James W. Hauck (ret), was one of the original 14 members of the Special Forces HALO commitee that developed HALO and techniques that are still in use today. They set a world record in the early 1960's with several massed exit jumps at altitudes in excess of 40,000 feet. This site also includes:

Hypoxia Page at http://www.hypoxia.net has several sites on mountain medicine, sports medicine, and material pertaining to the International Hypoxia Symposium.

Hypoxia Discussion by Tamara Koyn on Skydive Archive at http://www.afn.org/skydive/sta/hypoxia.html

The force of "G" at http://www.salon.com/tech/log/2000/02/08/camera/index.html talks about filmmaker Rolf Gibbs smashed more than a few camcorders while making a film that replicates a 30,000-foot free-fall. His project was filmed at Skydance Skydiving, Davis, California.

Parachutes of Germany website features HALO/HAHO gear including 12 volt underwear to keep you warm at 30,000 feet. They also have a high-performance portable oxygen supply system for parachutists. See http://www.parachutes.de/Englisch/EngWaermeWaesche.shtml

Awesome HALO helmets can be purchased from Bonehead Composites at http://www.boneheadcomposites.com/mt3.htm

I heard Apple Valley Skydive no longer exists. High altitude jumps in Southern California at Apple Valley Skydive. See http://www.air-affair.com/apple_valley_skydive/highaltitude/index.html

http://www.skypole.ru used to have a page on Skydiving from Stratosphere at http://www.skypole.ru/stratos.htm which was Para-World and the Russian Test Flights Center offering jumps from 40,000 feet as one of the Extreme International Parachute Actions.

Water Metabolism and Fluid Compartment Volumes in Humans at Altitude [click for abstract] A Compendium of Research (1914-1996), NASA TM-112212, October 1997, pp. 117.

There was someone who used HALO skydiving to cross the English Channel in 2003 which was posted on http://www.redbull.com/joker/index.html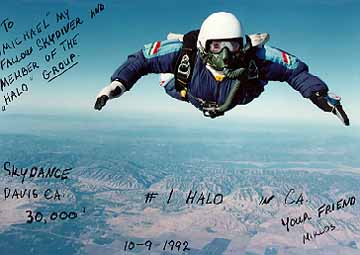 Mike Ince is there to photograph Miklos Talyak, the first to jump from 30,000 feet over Central California (meaning he left the plane first). Miklos is also the first Hungarian to skydive at the North Pole. "HALO" means "High Altitude Low Opening," a military term for skydiving.

---
Disclaimer and Purpose
Warning!
Parachuting is a high risk activity and can result in serious injury or death.
This website is for noncommercial, informational purposes only. This is not an instructional guide.
The purpose is to provide information on skydiving from high altitudes. I am not an instructor and I am not claiming to be one. For those interested in learning to skydive or participating in a high altitude jump, you must obtain training from competent and rated instructors.
Michael Wright, D13106
Website Editor
---
Feedback is desired (suggestions, comments, errors, gripes, whatever) Michael Wright, mfwright@batnet.com
---
Back to the Michael Wright Page